The following was published by the Gotham Gazette on July 5th, 2022. You can read the original version here. Interested in supporting The Foggiest Idea's award-winning reporting and analysis? Click here.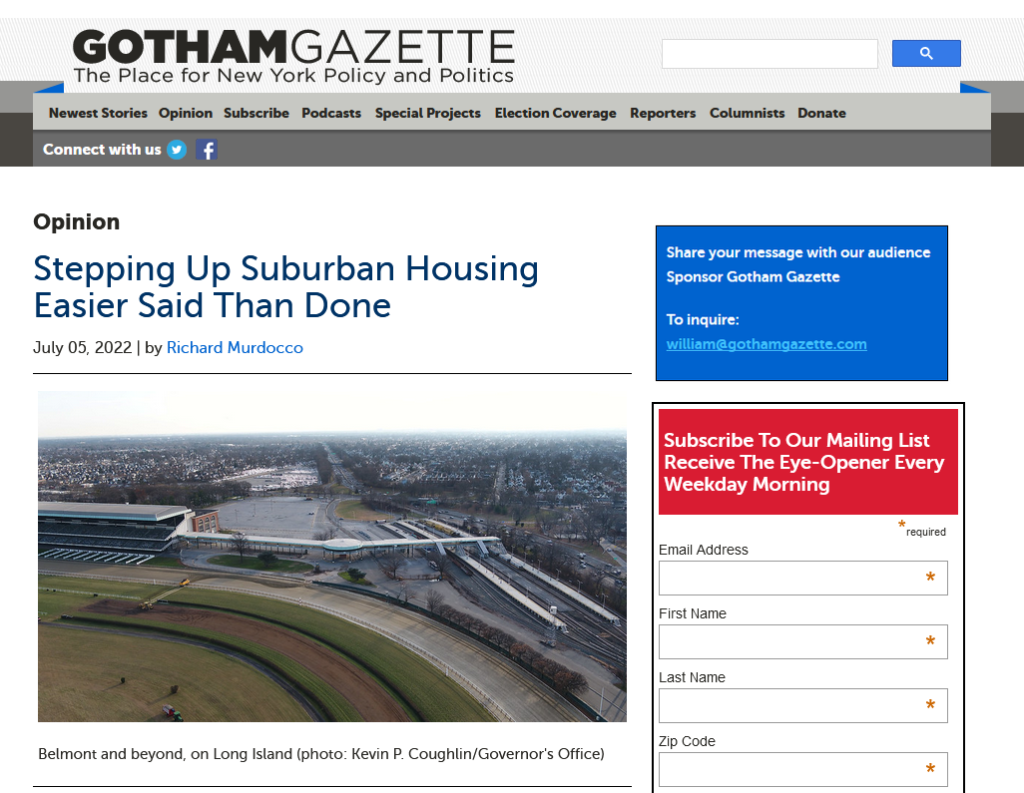 To housing advocates, the solution to the New York City region's affordability crisis is frustratingly simple enough: build, build, build, and build some more. To them, the suburbs and the single-family homeowners therein serve as selfishly guarded relics from an era long ago that aren't doing their fair share.
But painting the long vexing issue of housing affordability with such a supply-side broad brush ignores a fundamental tenet of sound urban planning – balance, and the need to accommodate growth that is both environmentally and economically sustainable for local governments to properly manage in the years ahead.
Working towards this goal is especially important in areas that have key infrastructural limitations – a reality often ignored in a discussion regularly focused only on social justice or economic issues.
As the frenzied housing market within the New York City metropolitan region proves to be more resilient than expected when faced with threats of a looming recession and 30-year fixed mortgage rates that are north of 6%, housing advocates have more aggressively urged suburban localities to loosen local land use restrictions to allow for more residential units.
The issue that often goes unmentioned in the discussion is that many suburban localities have struggled with the environmental ramifications of the growth that was allowed in the freewheeling years following the post-war housing boom. These lasting echoes of growth that planners had warned about in the 1970s have been felt in the decades since, whether in the form of harmful algal blooms along the coasts or through the diminishing air quality that sprawl has wrought.
During the post-war years, tens of thousands of tract homes were built across the New York metropolitan area, rapidly consuming farmland and open spaces with little regard for the social, economic, and environmental challenges that would arise. The rate of growth was so frantic that forward-thinking planners who worked in local governments spent their careers preserving what open spaces were left.
On Long Island in particular, the breadth of the impacts of such growth have become more concerning as we begin to fully understand the lasting legacies of rapid suburban expansion.
Long Island's drinking water supply, sourced from underground aquifers, remains under constant threat from both known and emerging contaminants, thanks to wide swaths of housing and industrial developments that lack proper wastewater treatment from public sewers. Worse, thanks to the hydrodynamics within these groundwater stores, we are now just seeing the environmental ramifications of development patterns that occurred during the 1980s, with more impacts from later developments yet to emerge.
Recently, I argued in Newsday that blaming local land use regulations for today's market conditions denies the fact that zoning can serve as a powerful mechanism many local governments have used to curb the worst of sprawl by balancing necessary growth, protecting the environment, and preserving quality of life. Zoning is a tool for policymakers to wield – and a drastic relaxation of key land use regulations without a broader cohesive strategy that is regional in scope will do more harm than good – potentially resulting in the over-proliferation of sprawling higher-density development patterns.
In turn, such unchecked development can amplify the challenges of economic stagnation and environmental decline that New York's suburbs already face.
And as the ongoing housing crunch continues to build, localities will be pressured to further loosen land use restrictions. For many first-time homebuyers, prices have long been out of reach, which in turn threatens the attractiveness of these communities for private investment and the viability of local talent pools.
There are no easy solutions, but a sensible discussion on housing cannot be had without factoring in the very real constraints to growth that suburbs face – and the present need of suburban communities to reinvent themselves for the 21st century.
Moving forward, it's important to remember that boosting suburban housing inventory is merely one piece of the complicated housing picture, and does little to quell  the unique factors that make the New York area such an expensive place to live or address the environmental ills that sprawl continues to bring.
***
Richard Murdocco teaches within Stony Brook University's public policy graduate program and School of Atmospheric and Marine Sciences, and writes on land use and development issues at www.TheFoggiestIdea.org. On Twitter @TheFoggiestIdea and @RichMurdocco.