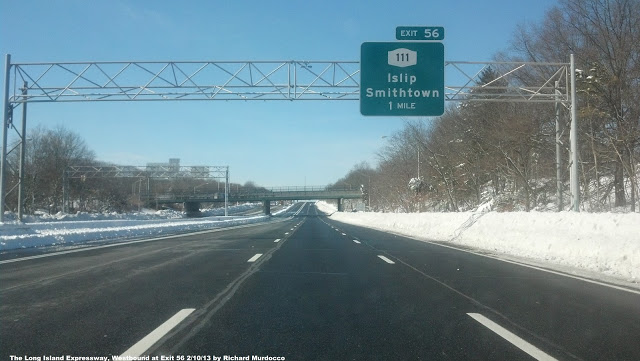 An empty Long Island Expressway, westbound, near Exit 56 on 2/10/13
The following was published on Long Island Business News' Young Island on January 30th, and can be read here
 
Long Island must prepare for future extreme weather events that have become the reality in the last decade. Recently, I wrote on this very page that we must annually prepare for the storm of the century…but now I amend that statement to say that we must prepare for the storms of the century, every season. This nor'easter came upon Long Island quickly and angrily. While we knew it was coming, few expected it to get as bad as it did so quickly. The stranded cars strewn about on NYS route 347, almost out of a post apocalyptic movie, are testament to how quickly we were hit. With snow expected at 6pm, few long Islanders left in advance of the "snow line", which hit the north shore around 3pm. After that, snow fell at a range of rates, with Stony Brook getting up to 4″ an hour.
Interestingly enough, "Nemo" (which the National Weather Service refuses to rightly acknowledge as a name), came almost 35 years to the day the Blizzard of '78 came and mollywhopped the region. Yes these storms are extraordinary, but we're getting hit by extraordinary weather events each season. Sandy aside, we have been hit by a Derecho, a volley of tornadoes and the snowy storm that shall not be named. These occurrences were in 2012 alone…when you think about the awful winters of 2009 and 2010 on top of those events, its just scary. In fact, the majority of the region's last major 10 blizzards came in the latter half of the 20th and early 21st century (the notable 1888 being the exception).
We need to be prepared. We need to adjust our behaviors. When a storm like this is looming, employers must release workers before conditions deteriorate to full on whiteout conditions, as they did for the many Long Islanders who abandoned their cars on the roads.
By Saturday morning, central and eastern Suffolk was fully paralyzed by roughly 30″ of snow. With the storm over and sun shining, many looked out their windows to see swaths of snow cover their unplowed neighborhood streets. Hours later, the same scene. Unbelievably, this continued into Sunday. As of 5pm Sunday, almost a full 48 hours after the snow started falling, NYS 25 (Middle Country Rd) in Selden was still untouched by plows, as were most of the side roads in the subdivisions lining the corridor. In fact, driving around, I saw many neighbors rally together to clear a path down their street using snow blowers, while countless others just waited it out for assistance that many felt took too long to come.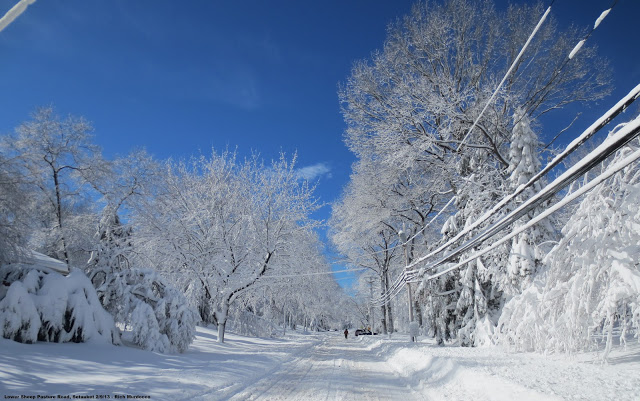 Lower Sheep Pasture Road in Setauket, looking westbound
Given the still-hazardous roads, the speed of the power restoration effort was relatively impressive. The LIPA and National Grid team was prepared for the roughly 50,000 outages, with the lights coming back on within 36 hours. Still, it was a cold, dark weekend for many in Nassau and Suffolk, myself included. The awful conditions further delayed essential power restoration efforts. Where LIPA and National Grid succeeded in a quick response given the conditions, the efforts to clear snow across the County failed. We knew this storm event was coming, and that it was going to be bad. The poor execution of street clearance is the product of unexplainable poor planning. With this storm, the system had failed.
At 5:30pm Sunday, a Ford F150 plowed out a bit of my block, hardly the salt and sand dump trucks that were used in the blizzards past. I began to anecdotally collect information from local friends on both Facebook and Twitter, and found that this seemed to be the pattern across Brookhaven, Islip and Smithtown. It is especially frustrating to the many residents who feel that their property taxes constantly are on the rise, and those who watch the regional cost of living climbs slowly out of reach. To them, it is an insult that their town doesn't have the decency to plow the road when it snows. To be quite honest, it makes it rather hard to defend why we should accept these high tax rates. As a student of policy, I understand the nuance and complexities local government faces, but sometimes I just throw up my hands and say "Seriously? They don't have the foggiest idea what they're doing!" I think its time we say enough is enough.
Storms like this are extraordinary. 30''+ accumulations on Long Island are incredible, but not insurmountable. Newsday made some sound points in a recent editorial, stating:
Suffolk got more snow, but that still doesn't explain why the county and its towns were overwhelmed. Once operations are back to normal, that issue has to be addressed. Already there are concerns, as there were after Sandy, that the overlapping local jurisdictions and a lack of communications played a role. Sure, the snow came down quickly, but that's what was predicted. It wouldn't be an excuse in Buffalo. In Massachusetts and Connecticut, the highways were shut down before the storm hit. That may not have worked here, but it's a question worth examining for the future.
– Source: Newsday
Editorial: Snowstorm Nemo Leaves Questions Behind, Newsday, 2/10/13
Many in the region have lost faith in government's response to emergency events.
So…what do we do? We keep on learning from our response to these events, and move forward. Planners adjust to the data as it comes but unfortunately in this arena, we're still learning what works and what doesn't. We must begin the long process of burying our lines despite the cost. Rebuilding in the same manner isn't exactly cost effective. We should assess where the most failures occur and work our way out from there and better protect our vulnerable pole mounted transformers. More immediately, local townships and the county need to cut out the jurisdictional nonsense when it comes to plowing. If a road needs to be plowed, and a truck is available, just do it. It shouldn't matter if the road is overseen by the County, State or Town. We need to begin expanding the scope of our efforts to centralize emergency response communications. The current system must be streamlined because it doesn't work.
 Like I said, with sound planning, Long Island can be prepared.