The following is both an interview conducted by Steve Langford for NewsdayTV, and the accompanying Newsday article by John Valenti that was published in the Monday, June 27th, 2022 edition of the paper on page A8. You can read the entire original piece here, and watch the segment here.
PRINT:
…The impact of the expressway on the development of Nassau and Suffolk counties cannot be overstated, according to Stony Brook University Adjunct Professor Richard Murdocco.
"The LIE fundamentally reshaped Long Island," said Murdocco, an expert on land use, waste management, economic development and planning. "At the time of its completion it was monumental, earth-shattering in its impact. It allowed for the complete overhaul of both the natural and built environment: commercial development, shopping malls, strip malls, office parks, housing … It also led to sprawl; the suburbanization of Suffolk County, maybe the urbanization."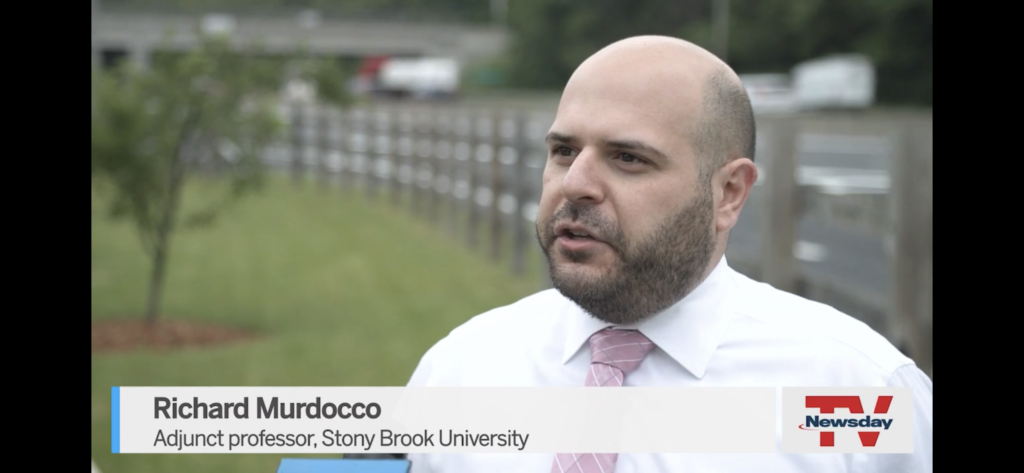 …The LIE allowed Long Islanders to fill in the gaps between the previously unconnected towns, villages and hamlets, the patchwork quilt that was and, in many ways still is, Long Island — connecting them, Murdocco noted, even when they didn't want to be.
…Murdocco, who studied under the late Long Island Regional Planning Board [now Council] czar and transportation visionary Lee Koppelman, said: "The LIE was purpose-driven for commerce and commutation. But the tensions? You saw that first explored when Newsday did those stories on the road's completion back in 1972, what type of changes would this bring … Policy couldn't keep up with the economic push to develop."
Only the urging of Koppelman and his board led to the protection of the pine barrens and groundwater resources and a host of other environmental necessities, Murdocco said.
But, Murdocco said, "It's been a real razor's edge."
Murdocco noted the last time he drove the LIE he blew out a tire on his BMW. And dented three rims. He won't drive the road any more if he can avoid it.